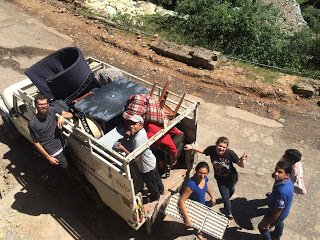 Leaving Dal Lake
Leaving Dal Lake
September 30th, 2015 is a day that we, the Naddi interns, won't forget. Everything had to be removed from the office/intern house of Dal Lake on this day, after months of waiting for the new houses to be built. There, some facilities are still not available and the shower room has apparently no wall to give intimacy in one of the houses… But the houses are built and most of the rooms are ready to welcome interns. So, in the morning, we started to pack our stuff in boxes. There were hundreds of books, bags full of medicines, broken things, electronic waste etc. After packing, we took a little break to take lunch at Cebu's café, just next to the office. Cebu was sad to see us leave. We are one of his dearest customers and the move will make it hard to see him that often. So we proposed him to move next to the new office!
As requested, the truck driver arrived more or less at the time we asked him to. That's a big achievement in India! It took at least 2 hours to move the stuff in the truck. Everyone was there to help. Step by step, the rooms were completely emptied. Everything was ready to go. But another work waited us: cleaning the rooms. It took a while to clean everything correctly. Then, the rooms were completely empty. There was nothing… It was an emotional moment to leave Dal Lake, a place full of life and memories. When seeing the empty rooms, I thought we couldn't leave without keeping visual souvenirs of the Dal Lake house. I hope these photos I took will keep the memories alive.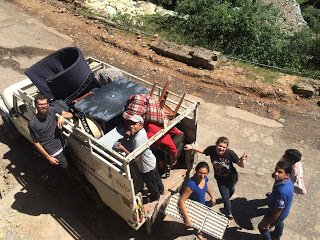 After taking a last look at the empty rooms, we left the office to carry everything to the new buildings. The truck driver brought us to the 'Blue house' where all the personal stuff from interns of the Dal Lake house waited for us. Few minutes of effort and the work was done. The move ended. It was exhausting but it was an amazing experience to move a whole office and an entire apartment with the other interns. It was a good way to reinforce teamwork spirit in Naddi. It offered us the opportunity to discover everything that past interns left for us, intentionally or not. And it remind us some great moments we had in Dal Lake, like the last BBQ party we had.