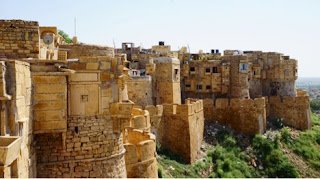 Camel safari in Thar desert
Camel safari in Thar desert
One of the nicest aspects of volunteering in EduCARE's Gajner office is the seemingly unlimited options for travel on the weekends. Situated in a central location in Rajasthan, Gajner has access to more interesting places than imaginable. A short overnight train or bus can bring you to the blue city of Jodhpur, the white city of Udaipur, the pink city of Jaipur or, my personal favorite, the golden city of Jaisalmer:
I decided to do a short weekend trip to Jaisalmer towards the end of my time with EduCARE with a fellow intern. The trip involved a 6hr overnight bus ride that dropped us off at 5am. We were quickly bombarded with tuktuk drivers trying to bring us to their sponsored hotel, but thankfully our previously booked guesthouse sent a man to fend them off long enough for us to get into his taxi. After a short rest and some breakfast, we were ready to grab a tuk-tuk and hit the city.
My favorite thing to do when visiting a new city is to go to the center square and proceed to get lost. This allows you to see a side of the city that the standard tourist misses. For example, scorching hot slides in the middle of a desert!
After a few hours of exploration, we somehow managed to find our way back to our guesthouse and proceeded to plan our next adventure: a camel trek in the desert. Having zero knowledge on how a camel trek is even organized, we opted to ask for help from the owner of the guesthouse we were staying at. Enter Abu, a widely eccentric man named who is constantly talking about how life is "mama mia." We arranged to do an overnight trip that involved camping under the Rajasthani stars. But first, we had to learn how to get comfortable around these beasts:
After a few failed attempts of grappling on top of my camel unsurprisingly named "Mama Mia," we set off into the deep desert. I found it interesting how much greenery there was in this desolate place. I also found it interesting how difficult it was to take a clear picture while riding a camel.
After two uncomfortable hours on top of Mama Mia, we finally reached our destination. It was amazing seeing the drastic changes in the scenery during the ride. All the previous green rolling hills had turned to bright hues of yellow. We immediately hopped off the camels and stretched before racing to the tallest dune we could find.
Sunset quickly came, and the stars soon followed. I had never seen stars as bright as they were that night. Unfortunately, my amateur photography skills failed to capture the moment. But it was an incredible evening. Even the giant beetles that seemed to constantly gravitate towards us contributed to what I would say was the best two days I experienced in India.
"No hurry no worry, no chicken no curry, no honey no money, no woman no cry, no hi, no bye, no chai, no chapatti, life is mama mia" – Abu desert safari man.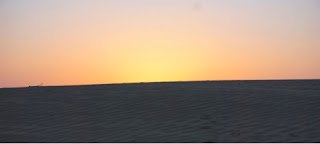 Alex Grainere – USA
Microfinance Project Manager, Gajner (Rajasthan)