Rural sanitation and waste management
Rural sanitation and waste management
The arrival of waste disposal bins to the hill village would not make anyone else as happy as it has made this Australian 21-year-old volunteer-intern. Arrived on July, Morgan Mcintosh did not previously had any ideas on which project to establish in the village. And although she herself confesses not being "a very environmental person at all", waste management problems in the area caught her attention immediately.
The local hills are green seen from afar during the monsoon season, but in a closer examination, other colors can be found: those of plastic bottles, plastic wrappers and other trash. "I thought it was a big shame that there were no facilities in the place, particularly in such a beautiful setting, so I thought I'd do something".
People in the area would normally throw their trash away, or accumulate it in bins only to burn it all later, posing serious health and environmental issues. And after her first days of deliberation, she found out that the problem was also a concern for the village community.
The kids used magazine paper to make beautiful and environmental-friendly necklaces
"I was really happy that the community brought up the issue themselves before I even got the chance through Young Woman's Association and the Girls Club. On my first couple of days, when I was giving it a thought, they showed their interest too" So she started doing some research and move into getting solutions for the problem by preparing a SWASH village project (Sanitation of Water, Air and Soil for Healthy village).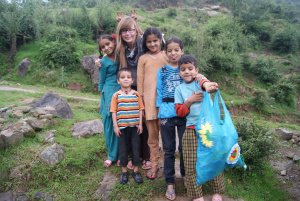 Waste can be managed
Education was the first step: she organized several activities for the kids and grown-ups to know how to separate the different items. Reuse activities also took place in her project, like the necklaces made in Girls Club out of magazine sheets.
Morgan after her lecture on recycling at the school. But the main goal was to get several bins so that all these ideas got into practice. After decorating them, the Fun club was also devoted to trash picking and then sorting of it, an activity at which the kids showed all they had learned in the past weeks.
There are now recycling bins in the Sheynnee community, as well as the Government School in the village, where Morgan also gave a well-attended lecture about waste management to the kids. A basic lesson about resources and their potential unavailability in the future was also part of her project. As she puts it, "there's lots of areas that need to be covered: recycling is important, but also sustainability, resources… more environmental issues will be covered when more interns arrive".