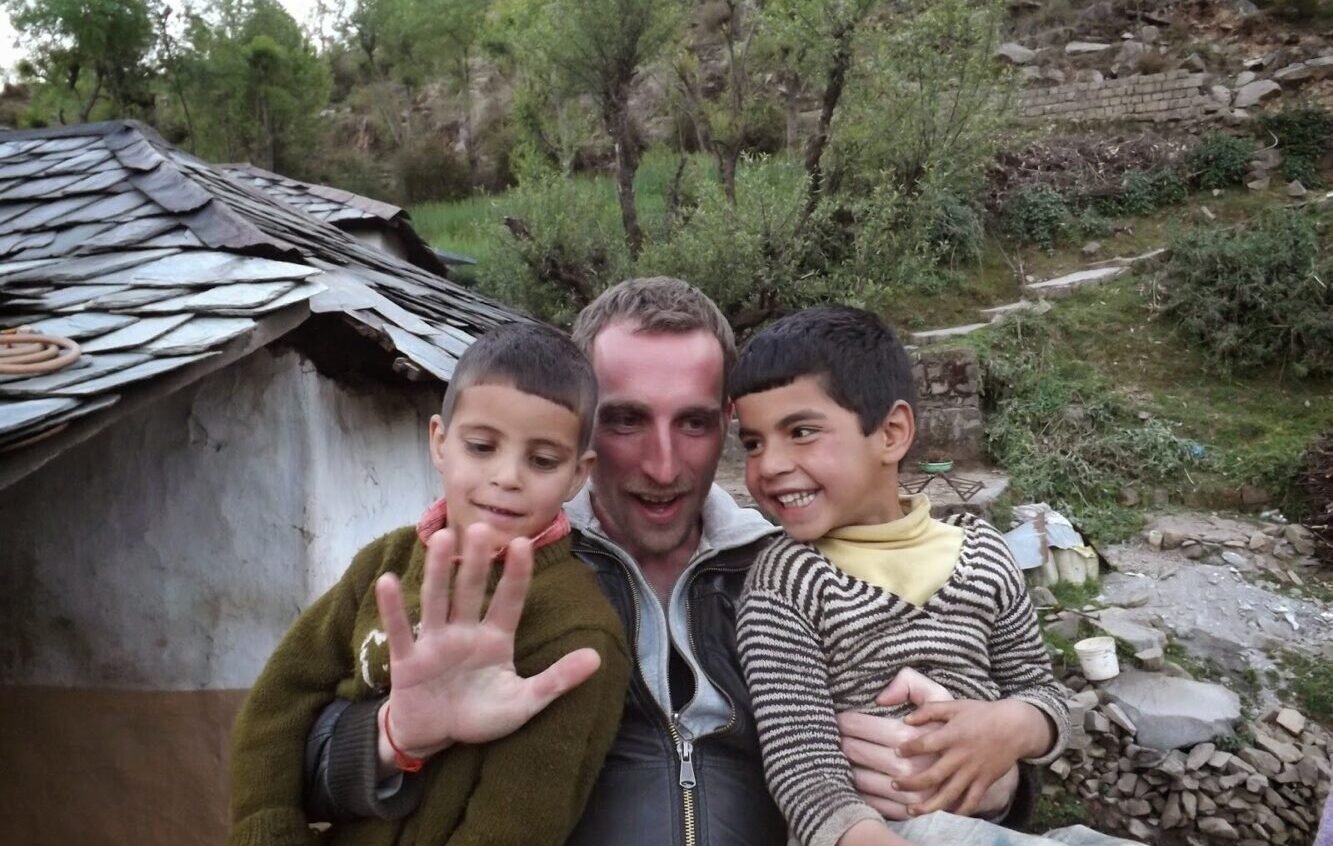 Steps towards a sustainable future
Steps towards a sustainable future
(towards-a-sustainable-future-swash-project–educare-india-intern-steps)
Just a short walk away from the main square in the village of Naddi lives a small community that we refer to as the "Shanney community". It consists of eight families, about 40 people and although they are only a short distance away from the main village they tend to live their daily lives somewhat removed from it. Like every person around the world they have basic needs and wants with regards to their health and sanitation but due to a lack of a sense of empowerment, education and finances they don't have the sense of responsibility, the knowledge or the organisational skills to implement ideas that will help to give them a better standard of living.
This is where EduCARE India comes into play. An old Chinese proverb springs to mind that might best explain our intentions;
                              Give a man a fish and he will eat for a day, teach him how to fish and he will eat for the rest of his life.
We intend to teach the Shanney community "how to fish". Our programmes involve sustainable community development that will help empower the community and teach them that they can take responsibility for their lives, health and environment. We want to show them that they are not entirely dependent on the state to organise infrastructure that pertains to their health, safety and sanitation.
On Saturday the twelfth of April 2014, we had an informal meeting led by Mr B (EduCARE India's Chief Project Director) with seven of our project managers by his side and seventeen members of the Shanney community (each family was represented by at least one person) to discuss what measures we can take together to help them improve their quality of life. Representatives from different generations of life in Shanney were present and they all expressed their intent to continue living there long into the future. For them to stay there in good health habits need to change, education needs to be improved and infrastructural systems need to be developed.
Before we revealed our own agenda with regards to areas that we think they need help with, we wanted to know what issues they felt needed addressing and what it is that they thought they as a community could do to make improvements. One by one they were asked the same question and they all replied with the same answer. That solid waste is a major issue, plastics and paper litter the surrounding area and the only infrastructure that they have is a few bins for paper and plastics which EduCARE had previously placed in their community and have been collecting. Initially these bins raised awareness to the practise of separating waste, but now they are ready for an upgrade.
They all suggested and agreed that they are responsible to do a mass clean up of the surrounding area which we have volunteered to organise for them on the first day of the following month. From this idea a new community based initiative was developed. On the first day of each new month we shall organise a community based activity that directly addresses important issues that the people in Shanney face.
Unfortunately, perhaps due to the fact that waste which litters the valley is so obvious to the eye; this was the only issue that the meetings participants were comfortable enough to mention. This demonstrates either a lack of awareness to the conditions that affect their lives or a lack of confidence to speak up about problems that are not so evident. Either way, it is clear to see that we have a lot of work in front of us.
Following up on the community's primary concern, is the first item on our agenda; solid waste management. A newly developed solid waste management system has been implemented in the EduCARE staff houses. Although it is not a perfect solution to the waste management problems that people face in rural India, it has been designed in such a way that the foundations of the system should be relatively easy to replicate within the community. Waste can be separated into 4 main categories then brought by volunteering member of the community to our waste storage facility where it is collected and repurposed or sent away for recycling. For example; soft plastics can collected for making Ubuntu-blox (google this if you don't know this simple but ingenious way of dealing with the plastics problem in the developing world); plastic water bottles are being collected to make a greenhouse; paper can be recycled by the community or turned into burnable briquettes producing energy and lowering the dependency on gas; fabrics can be reused to make clothing for the ReStore (ReStore is an empowerment program which we run where local women make clothes and crafts that they sell in a shop which EduCARE runs)…
These solid waste management initiatives are for us to teach the people from Shanney how to implement and operate, not for us to do everything for them. We help with the initial development of a system, but eventually they will take over. We want them to learn that they control their surrounding environment and that the less waste that they produce the better and that whatever waste is produced can become a useful resource. Very little "rubbish" is actually dirty!
Next up on our agenda is their water supply. Poor infrastructural development has left many leaks along the waters' pipelines as well as the rampant dumping of waste around the water sources and the leaks have left the water contaminated. Although we are not exactly sure to what extent it is affected, we are certain that water-borne parasites are prevalent, causing many illnesses in the area. A laboratory is being set up for the purpose of testing the water, but this will take some time. In the interim, other solutions must be found. A simple provision would be to boil the water before drinking it and using a water filter, the hard part is getting people into the habit of using these precautions and for them to truly understand why it is they are taking them.
The third issue we addressed is our initiative to raise awareness on health issues. Little education is given with respect to health related practises which we in the developed world take for granted. For example; drinking dirty water or having an indoor fireplace with no ventilation. To counteract this void in learning, we are developing a health centre where the community can learn about the factors that affect their basic health such as; good / bad nutritional practises, basic first aid, causes of respiratory problems, causes of illness such as dirty water, sanitation and hygiene…
There are no local doctors in Naddi and only when someone is very ill do they undertake the forty minute journey down the mountain to the hospital. We hope to be able to arrange having a doctor come to our soon to be developed health centre once a week; to provide basic medical care for relatively easily treated illnesses, which if left ignored might become dangerous.
We then moved on to discuss "the clay oven project". The houses in the community have open fires in the kitchen, but they do not have any form of chimney to ventilate the smoke. All of EduCARE's staff spend their initial two week induction period staying with certain families in the community which take part in our "homestay" project (similar to a guest house). One of the negative aspects that is always mentioned by the new interns is the problem with smoke inhalation caused by the open fire in the kitchen. We notice this immediately but the families either aren't aware of the hazard to their health or feel like there is nothing they can do about it. They have learned to live a certain way and for them it is ok, but they seem oblivious to the massively detrimental effects this is having on their health. To combat this, a model for a very cheaply made clay oven and chimney has been developed. Our hope is to eventually have one of these in every house, but it is up to the potential recipients of the oven to help us make them.
There are no ovens in Naddi, hence there is no bakery. The clay oven project also provides an opportunity for business, whereby fresh baked goods can be sold in the Restore shop providing a supplement to a household's income and fresh bread to a village (this will please many who work at EduCARE).
As an eco-friendly organisation, trees were always going to be mentioned in our meeting. Deforestation is one of the biggest problems that the earth faces. Many of us know that the main effects of this are reductions of global oxygen production and massive losses in wildlife habitats culminating in mass extinctions of species.
These effects are also prominent in Naddi, but there is another pressing issue that the people of Shanney face. The community is built on the steep valley leading down to the river where they experience large snowfalls in the winter and heavy monsoon rains in the summer. The stability of the soil that rests above them is in jeopardy because there are no more trees to keep it in place. The possibility of a landslide will someday become very real. These missing trees should also act as natural groundwater filtering system for the water that flows down to the river which feeds the villages below us. Instead it flows through dumped solid waste, contaminating the water source that supplies neighbouring villages.
We already have projects underway in which we are working with the community and have created a tree nursery. Many of the trees have been planted by the children of Shanney and the life giving favour will eventually be returned when the trees bear fruit for them and their new children whilst keeping the soil above their houses intact.
These ideas are not quick and easy solutions to immediate problems. They require time, patience, persistence and optimism. We want to change the way that people view the world, their place in it and the control they have over it. It is our hope that we can learn from these projects and eventually develop replicable solutions to common but important problems that people face across rural India. When the meeting in Shanney finishes, without anyone mentioning these last points on what it will take to achieve our goals, it feels as if the people of the community understand the problems that lie ahead of them and that they are looking forward to engaging with us as much as we are with them.
Alex Moran, Ireland
SWASH Project Manager