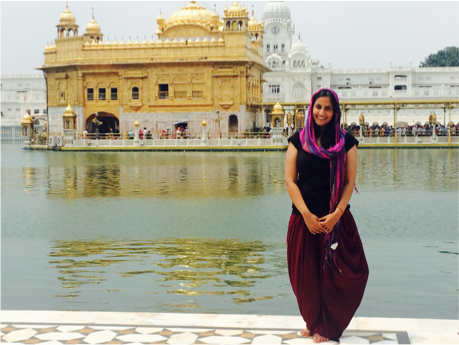 An experience in India
An experience in India
Being part of EduCARE weaves some sort of spell – It constantly requires you to grow and change. Unexpectedly, several things have left a lasting impression on me. In no particular order:
Cows, dogs, birds, spiders, leeches and slugs.
Enough said.
Girl's Club
While working on the field for a grassroots organisation in particular, it is hard to see progress unfold in front of your eyes… Unless it's Girls' Club. When I met the young girl's in early July I knew I wanted to inspire them to dream. I knew I wanted to give them a taste of everything I knew.
On my very first session with the girls, we looked at the map of the world. We picked random destinations and then used google images to see the different countries. This was rather interesting since most of them had never been anywhere beyond Dharamshala. As the weeks went by we started talking about deep sea diving and outer space travel. As we grew closer, breaking our personal boundaries, we would exchange views on relationships and marriage and the point of it all. Ofcourse there would be a lot of giggles but we were able to comfortably discuss intimacy too. It was not all serious though! We played an endless number of games, we learnt dance routines and had long henna sessions. I could see them grow as individuals almost every week – and that was most rewarding.
I think that you know you are on the forefront of change when you are speaking to a group of girls that are listening intently, you know you are making some sort of a difference when they let you challenge their thoughts and perceptions. And I know they appreciate it most when I am not necessarily imposing my views on them but rather letting them decide for themselves what they would like for their rights.
A big, beefy woman, with barely any neck but a beautiful heart.
Living at Indra's house has been a unique cacophonic experience. Her mother in law coughing her lungs out, her son playing bhangra music on his phone, her grandchild crying, her daughter chasing after the chicken, her neighbours yelling, her dog barking, her tv on maximum volume; are only some of the sounds that would play simultaneously.
Will I miss it? It's too soon to say, but I am thinking no.
The Unreserved Compartment
Even though I am Indian, there have been several instances where I felt the challenge of adjusting to Incredible India… But this particular journey did throw me over the edge.
We were under the impression we were going to travel First Class Jaisalmer to Delhi. On reaching the station however, due to the long waiting list, we found out that we would have to experience a 15 hour overnight journey in the general compartment, or otherwise known as the unreserved compartment of the Indian Railway system. We went from a sense of entitlement to a sense of economy within a matter of minutes.
All night, station after station there was a violent scramble on board. I feel the picture below does no justice. Every available centimetre of seating space was occupied – all the way to the metal luggage racks over our heads. The very old, fragile men in the aisle took turns to sit or squat on the floor. Every individual felt the press of at least two other bodies against theirs. Did I mention the stench? There were definitely times we were ruthlessly robbed of our right to breathe some fresh air. But we were already there, sharing with the hapless masses, the full burden of an inescapable Indian experience.
Weekend Travel Escapades
From Rajasthan's extravagant palaces, forts and finely carved temples to the Ganges flowing out from the foothills on its journey to the sea in Uttarakhand – I have had the opportunity to travel North India extensively during the weekends and I have thoroughly enjoyed it.
My most favourite travel was to the Sikhs' holy city of Amritsar. Noisy and congested, but as lively as any other Indian city, this city contains the fabled Golden Temple whose domes soar above the teeming streets. The afternoon sun rays hitting the golden Darbar Sahib made a splendid sight. After having the kadha prasad and taking in the view, we further indulged in paranthas and lassis at the infamous Brother Da Dhaba before we made our way to the Indo–Pakistan frontier at Wagha. As the parade progressed, the roars of pride from both, Indian and Pakistani spectators grew equally loudly and strongly. I don't think I had ever felt more patriotic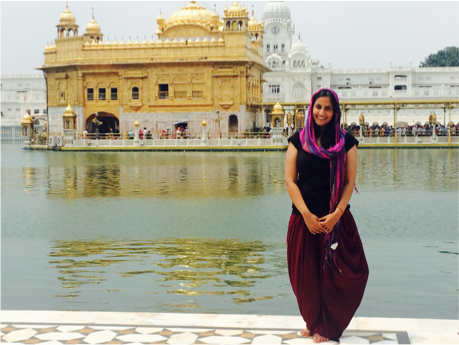 Aloo Parantha, my true soul mate
Aloo parantha and I share an emotional intimacy like none other. They reciprocate my love and are ever forgiving for the times that I cheat on them with, you know, dal-chawal or crepes. Whether at Omy's or at Restore, I will definitely miss an integral part of my Indian diet and a hot cuppa chai as I would enjoy the view of the rocky Dauladhar terrains, towering high above the Kangra Valley.
Tulsi
From the 'ambika' jokes to her detailed live narrations, Tulsi's sense of humour will be deeply missed.
I am so grateful for the experience EduCARE has provided me with and thankful for the beautiful people I have met on the way. Each and every individual, uniquely talented and equally inspiring. There is so much I have learnt from all those around me.
Here are some of my favourite people, looking their best :

They say 'Everything you ever sense, in touch or taste or sight or even thought, has an effect on you that's greater than zero … and they change your life forever'… It's true.
Anamika Choudhury
Women's Empowerment Coordinator
November 2015