EduCARE India has set up several projects in Forestry in its different clusters:
In Naddi:
The forests around Naddi are put under a lot of pressure as the local trees are used as fuelwood and fodder for the cattle. Consequently, in some areas, the forest has completely disappeared and the soil is severely eroded.
Three projects are currently running to try to reverse this process:
-Green gift project: The most efficient way to protect forests around Naddi is to make people aware of their inherent value. To do so, interns mostly work with the children as they can impact the behaviour of their parents. All children in the community are given fruit trees on his/her birthday.  The families pledge to buy and plant a new tree for each birthday of their children.  These trees are then planted around the community.
-Community-based reforestation project: One area above the community is severely damaged and prone to landslide because of intense soil erosion. As trees reduce soil erosion and can help prevent landslides, our project is to reforest this area with the help of the community.
-Sustainable management project: People in Naddi go in the forest twice a week to collect wood for their cattle and for fuel. Currently, no data exists on the forest areas which are exploited, or on the impact of the exploitation. Our project is therefore to understand which part of the forests are exploited and how, so that we can develop sustainable community-based forest management.
In Maitee: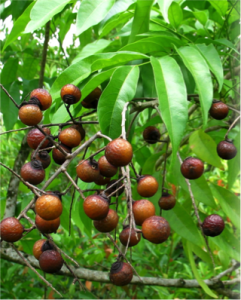 EduCARE India would like to set up a soap nut tree plantation in the community of Maitee. Indeed, these nuts are used a lot in India to produce soap. Producing nuts and selling them would provide an sustainable income for the communities involved.
In Punjab:
Our goals in Punjab are to:
-Set up bamboo plantations in the communities and migrant camp where we are working. Bamboos are heavily used for construction and can be a good source of income for these marginalised groups.
-Creating fruit tree orchards to improve the diet of local migrant communities, and for intern house consumption.
-Making villagers aware of the issues related to forests and wildlife through workshops and activities.
Wildlife in Punjab is very rich, but unfortunately quite endangered. Thus in the future, EduCARE India would like to work on a program of rehabilitation for the declining tortoise and iguana populations.
Overall, the forestry project goal involves five primary objectives:
– establishing community based forest management and conservation of heavily forested areas
– reforestation of heavily and/or unsustainably forested areas with a combination of native species for wildlife corridors, and bamboo plantations for community income
– community outreach and education in wildlife conservation and permaculture activities
– the creation of fruit tree orchards to improve the diet of local migrant communities, and for intern house consumption, and
– a program of rehabilitation for declining tortoise and iguana populations.